You've finally decided that it's time to update your kitchen. The outdated cabinets and hardware have got to go. You love your neighbor's backsplash and light fixtures. Marble countertops are beautiful, but will you be able to afford them? The one thing you do know is that you want your kitchen to stand out and represent your personal style. The design team at Booher Remodeling Company loves to do this by adding a unique accent piece to your kitchen, adding a splash of color where in years past you'd never expect it – smack dab in the center.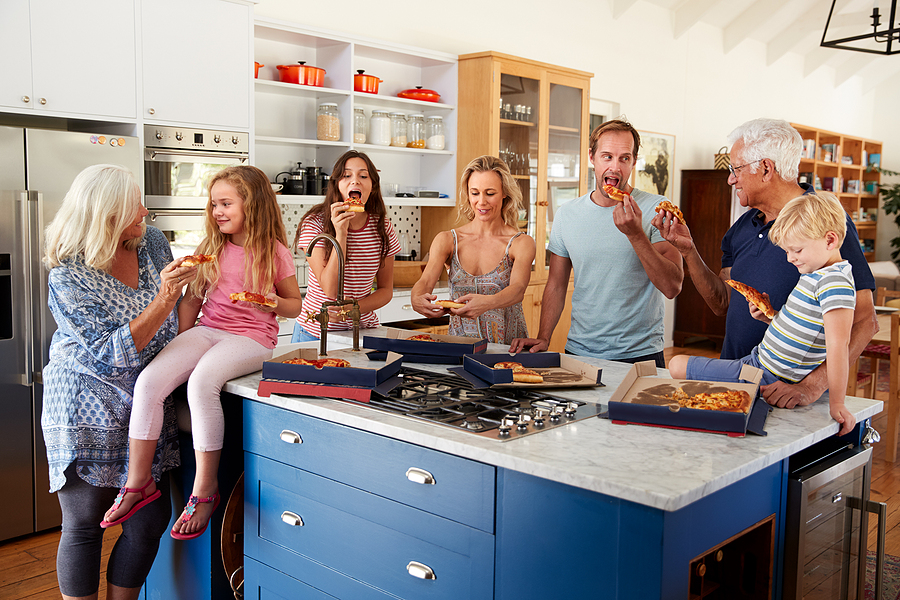 Large Furniture Pieces
As you work with your kitchen designer, incorporate a furniture-like piece such as a hutch, pie safe, or buffet. The piece can be purposefully painted a color that is different from the rest of the cabinets to make it stand out and become like a large piece of artwork. Then, use details and architectural features to further enhance the piece, such as corbels, mullioned doors, fancy feet, pilasters, and arched door openings. When all the other cabinetry is painted white, a large piece like this will certainly stand out.
Unique Islands
The kitchen island is naturally the center of the kitchen, handling everything from food prep, to storage, to housing appliances with ease. Rather than painting your island the same color as the rest of the cabinetry, today's designers are shining the design spotlight on islands by painting them a different color. If a kitchen has all bright white cabinetry, for example, a designer may recommend painting the island a shade of navy or a forest green. This makes the island the star of the kitchen, and you can then pick up this pop of color in other accessories throughout the room.
Creative Cabinetry
Another way to add an accent to your kitchen is by varying the cabinets themselves. Instead of keeping all the cabinets the same color, designers are changing things up in a couple of different ways. One option is to make all the upper cabinets one color and all the lower cabinets a different color. Designers have even started changing the layout of the cabinets. Instead of hanging all the upper cabinets at a uniform height, you can now find cabinets hung at staggered heights to create an interesting visual presentation.
Want to find out more about your kitchen design options? We'd love to sit down and talk with you. Contact Booher Remodeling Company today at (317) 852-5546 to schedule a virtual design consultation with our Indianapolis office.